OUR PATIO IS OPEN!!! Join us for breakfast, lunch and dinner.
Inside Dining is also open.
Reservations welcome and recommended!
TAKEOUT DINNER AVAILABLE FOR PICK-UP
PLACE YOUR TAKE OUT ORDER BY EMAILING:
EMAIL KIRSTIE AT: KIRSTIE@MILLCROFTCATERING.CA
OR
– CALL 905-332-5111 EXT. 28
*All in house & takeout menus are below
Specials for the weekend July 23rd to July 25th: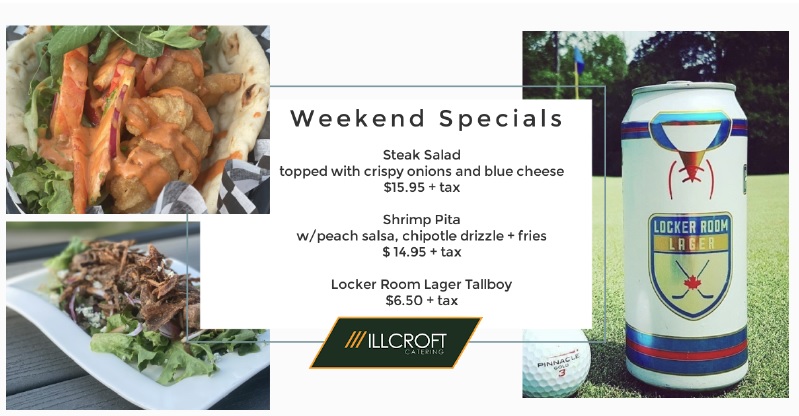 Millcroft Golf Club offers the ideal setting for your corporate and private events. Our banquet facility is equally perfect for a larger tournament, your company's meeting or corporate events, or a small gathering of family & friends. The banquet & dining rooms open up onto our two tiered back deck which overlooks the 18th fairway and greens providing a spectacular setting for your next event.
Millcroft Golf Club provides a worry-free event experience. We have a professional staff ready to assist you with all of your important details and we provide a range of services and partners to ensure your event is a grand success.
We offer a variety of cocktail menu options to suit your needs and our Executive Chef would be happy to work with you to create your own customized menu.
For additional information , please visit our company's website at www.millcroftcatering.ca
Contact us and let us help you get the planning underway!